Scheduled Classes
The classes offered at Sinking Springs are suitable for all ages. We welcome you to join us with a friend or two, or visit with your group (4-H, Girl Scouts, Boy Scouts, Church and Youth Groups, etc.).  You'll enjoy a one-of-a-kind adventure with Ann Stubbs where she will provide an opportunity for you to connect with nature through crafts and educational outings.
Ann holds a Master's Degree in Art and Elementary Education from the University of Delaware. She has done commissioned pieces and educational programs for the White House, Campbell's Soup Company and Longwood Gardens. Her passion is to inspire creativity through nature in children and adults of all ages.
Take part in a class or two and appreciate a hands-on experience that will spark a fire in you for the love of nature. Leave behind your fast-paced world and acquaint yourself with the natural world. All generations are welcome, so make this an adventure for the whole family!
---
---
2021 Classes & Workshops
*To enroll, please contact Cecil College registration at 410-287-1078; option# 6 or email registration@cecil.edu.
If you can't make it on the day it's scheduled, all classes are available continuously for as few as two students!  Call Ann at 443.553.4618 to set up a time and/or if you need directions to Sinking Springs.
Payment may be in the form of check or cash (no credit cards accepted).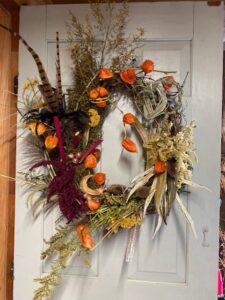 THANKSGIVING BURST — Saturday, November 13, 2021, 10:00 am to 12 Noon
Create your Autumn starburst of colors by using nature's gifts.
$29 — Register through Cecil College (see note above) Course #GAC553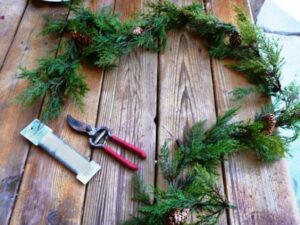 EVERGREEN GARLAND — Saturday, December 4, 2021, 10:00 am to 12 Noon
Enjoy the fresh scent and texture of pine and evergreens all through the holiday season with our handcrafted garland.
$29 — Register through Cecil College (see note above) Course #GAC662
(Image-https://www.diynetwork.com/how-to/make-and-decorate/decorating/how-to-make-a-wreath-from-fence-pieces-and-garland)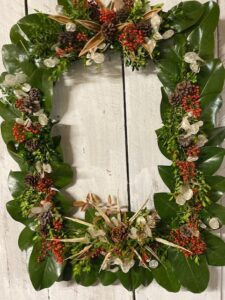 FRESH GREENS WREATH WORKSHOP — Saturday, December 4, 2021, 1:00 – 3:00 pm
Enjoy the scents of the season!  A holiday wreath using fresh greens and accents will delight you throughout the holidays.  This great activity will kick off your holiday festivities.  A great gift for yourself or someone you love!
$29 — Register through Cecil College (see note above) Course #GAC662
NOTE:  PREVIOUSLY HELD CLASSES/WORKSHOPS MAY BE ARRANGED — CALL ANN (443.553.4618)
Driftwood Stone Art
Teacup Garden
Growing Herbs for Patio or Garden
Vinegar, Borax and Beyond
Painted Wood Slice Pumpkins
Exploring Herbal Remedies
Pine Cone Wreath
Exploring Herbal Remedies
Gifts from the Garden
Berry & Twine Wreath
Pressed Flower Picture Mats
Consider our newest service —
Natural Wellness; customized treatments for face, body and hair.
Contact Karin for an appointment at 610.636.4567.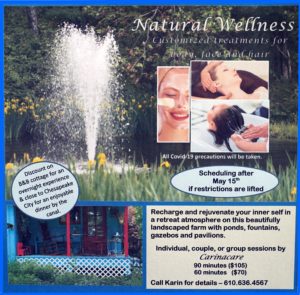 © Copyright Sinking Springs Retreat Center, LLC 2020